The foRMAtion Mentorship Programme has been successfully launched and is taking place this summer between June-August 2022. The Methodological guide for the Mentorship Programme, elaborated by the project consortium and designed to provide support to young Research Managers, is being tested with the involvement of 6 research support offices of partner organisations.
The mentorship programme consists of both online and physical mobility, thus providing a blended learning opportunity for participating students. Moreover, the programme significantly promotes synergies between the labour market and higher education. On the one hand, by enabling university students to acquire real-life work experience during their studies and, on the other hand, by linking research performing organisations and research support offices to students and fresh graduates. Through these activities trained staff at partner research support offices can mentor students from partner universities to get hands-on knowledge that will be a precious supplement to their university studies.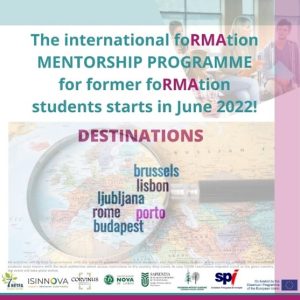 As a part of this program, 6 lucky students who successfully completed the foRMAtion modules at NOVA University of Lisbon, Corvinus University of Budapest and Sapientia Hungarian University of Transylvania have been chosen as our first mentees and were sent out to 6 European research support offices this summer: in Brussels, Lisbon, Porto, Rome, Ljubljana and Budapest. They are involved in real-life RMA tasks as part of the daily work of our project partner institutions. You can check out our social media channels (LinkedIn, Facebook, Instagram) to follow our students' and mentors' experiences along the way!
If your organisation is not part of this program yet but you are interested in getting involved either as a sender, academic organisation or as a research performing host organisation, you can join our foRMAtion Mentorship Alliance by contacting us at: hetfa_formation@hetfa.hu
Don't miss out on our Methodological guide for RMA mentorship!