One day before foRMAtion's final stakeholder event, on 29 November 2022, the consortium partners and the Advisory Board came together to evaluate the project's achievements in a last transnational project meeting enjoying the warm hospitality of the Brussels Liaison office of APRE, the Italian Agency for the Promotion of European Research.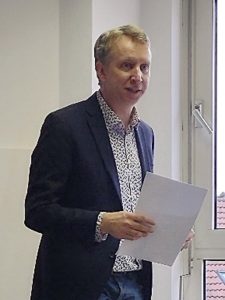 The project has been an intense journey both professionally and personally, and the consortium can be genuinely proud of its achievements in the field of research management training in higher education. The meeting provided an opportunity to draw conclusions, assess impact, discuss the recommendations, celebrate achievements and develop strategies on how to share the project's RMA educational tools with stakeholders in the future, during the follow-up of the project.
Virág Zsár, consortium coordinator from HÉTFA Research Institute thanked the experts of the partner institutions from NOVA University of Lisbon, Corvinus University of Budapest, Sapientia Hungarian University of Transylvania, APRE – the Agency for the Promotion of European Research, ISINNOVA – Institute of Studies for the Integration of Systems, SPI – Sociedade Portuguesa de Inovação and the Slovenian Forestry Institute for the hard work of the past 3+ years and outlined the sustainability actions planned until 2024.
The Advisory Board had a short meeting to assess the project's outputs and deliberate on the challenges and opportunities regarding the adoption and adaptation of the foRMAtion Educational Module by other HEIs and on the implementation of the Mentorship Program by other entities beyond the partnership. Edwin Kanters, on behalf of the Advisory Board, complimented the consortium for the immense work achieved and encouraged the partnership to put more efforts in reaching out to networks of teachers and researchers and to seek for possible synergies with similar initiatives. He also confirmed the relevance of the foRMAtion Module to train junior RMA staff to develop their skills needed for research management and their expertise in EU funding.
Special thanks to all Advisory Board Members – Simon Kerridge, Edwin Kanters, Marta Agostino, Michele Genovese, Birgit Ditgens, Jan Andersen, Susana Moreira – for the continuous support, inspiration and advice!