On the occasion of foRMAtion's final stakeholder event in Brussels, the foRMAtion Alliances for the Educational Module and / or Mentorship Programme were officially launched by the two dedicated trainings offered for new members interested in taking up the project results and joining the network. Both training events got fully booked and attracted participants from 8 countries. More information on the alliances and how to join these initiatives can be found here.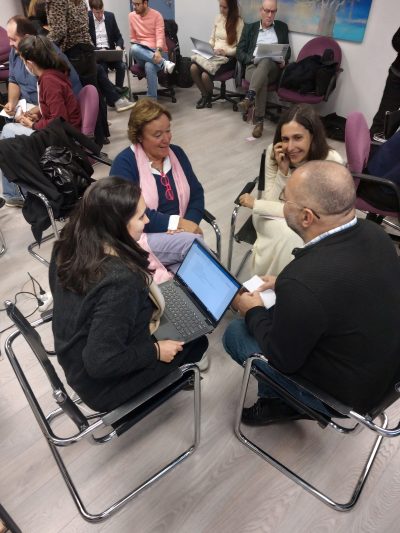 Teachers Training
The first training took place on 29 November with the participation of HEI teachers, educators and RMAs. The session focused on how to teach the foRMAtion Modules, how to use the foRMAtion teaching methodology and the foRMAtion online textbook and self-development tool. Best practices from the piloting of the two-semester courses at NOVA University of Lisbon, Corvinus University of Budapest and Sapientia Hungarian University of Transylvania were shared, followed by interactive exercises from the module. If you would like to participate at one of our forthcoming training events or online community of practice, you can join the Module Alliance by filling in this form and you will receive our latest updates and meeting invitations.
Mentors Training
The second training took place in the afternoon of 30 November, targeting representatives of research performing organisations and focusing on the foRMAtion Mentorship programme. How to implement the foRMAtion Mentorship methodology and how to adapt it to RPOs' institutional needs? Participants had the opportunity to get to know best practices and advices from foRMAtion mentors, share their experiences or concerns regarding the mentoring of future RMAs and look for solutions to real-life challanges that may come up along the way. If you would like to get our updates on the forthcoming mentors trainings and related online events, feel free to join the Mentorship Alliance by filling in this form.
For the tentative schedule of trainings and community of practice events until 2024 read more here.